Build Your Best-Performing Paid Audiences
Crowdly's Clinks™ automatically capture previously-unreachable, highly-qualified audiences, from any of your content, on any channel, to drive your best performing online advertising campaigns.
Show me how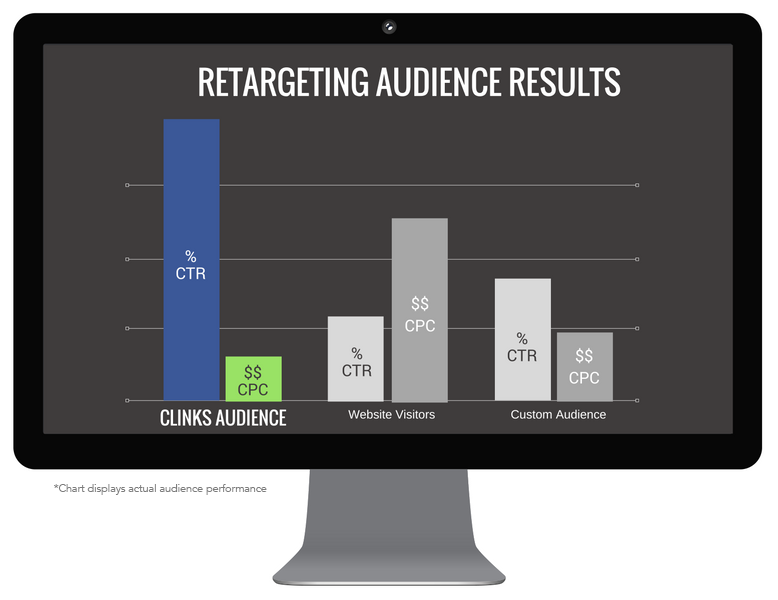 What are Clinks and What Do They Do?
Clinks are our smart-link technology that automatically add people to your online advertising audiences when they click, wherever they click (social media, email campaigns, offline media), regardless of where the link goes: media coverage, YouTube, or online retailers selling your products, etc.
Clinks give you access to a huge, hyper-qualified audience you've never been able to retarget until now, and there's no coding required.
With Clinks

Your Best-Performing Audiences with Clinks

Without Clinks

Smaller, Lower-Performing Audiences Without Clinks
Immediate Benefits
Clinks let you build retargetable advertising audiences from all of your traffic, even if that traffic goes to sites you don't own. They also make it easy to segment your audiences based on the content they view. Clinks also make it easy to poll your traffic for immediate customer feedback, all without any code.
Capture All Your Traffic, Not Just Website Traffic, Anywhere on the Web
Where once your traffic from Facebook to YouTube (for example) would disappear into a void, we make it simple to capture that traffic to build retargetable audiences across multiple advertising platforms.
Outperform All Your Other Advertising Audiences in CTR and CPC
With better-qualified, larger audiences who have expressed actual interest, see higher CTR, lower CPC, and more accurate look-alike audiences for better results on a larger scale.
Ask Questions, Get Answers from Your Traffic Wherever They Are
Quick, one-question surveys across all or a portion of your traffic, regardless of who shares your content and regardless of where your content lives. Think NPS and likelihood to purchase, from actual customers, without extra code.
Zero Code Required:
Begin Building Your Best Audiences Immediately
Forget the endless back-and-forth it takes to get IT to implement audience-building code. We capture audiences across any ad platform with the simplicity of a single shortened link, created in the Crowdly platform.
Clinks for E-Commerce
When a Clinks client didn't have authority to add retargeting capabilities to their website, they used Clinks for internal navigation – in one case building an audience of people who had clicked their Store Finder. Combined with audience-filtering tools on Facebook Ads, they were able to retarget potential customers with ads featuring those users' closest retail locations. Additionally, they were able to conduct one-click Likelihood-to-Purchase surveys with no additional technical setup.
Clinks for Content Marketing
When a Clinks client had a celebrity advocate drive 2.5 Million views to their YouTube video, they gave him a Clink to share. Even though they didn't have access to the celebrity's social media accounts, or ads access for the YouTube video itself, they were able to build retargetable audiences across their ad platforms – audiences they knew had seen the video. Additionally, Clinks gave the client the ability to control the Share Preview on their end, so the celebrity didn't need special instructions.
Only pay when your content clicks
Agency / Enterprise? Set up a call for custom and high-volume pricing.
How much better do audiences perform?
In real world use we're seeing Clinks audiences and lookalikes based on Clinks audiences outperform previous best audiences with up to 40% higher CTR, with CPC reduced by 15-30%.
How quickly will my audience build?
Audiences will begin to populate as soon as people click your Clink.
Can I segment my audiences?
Yes! Clinks make it simple to segment audiences based on links they view, or to advertise to your audience as a whole.
Is there any technical setup I need to do?
There's no coding or technical setup required! Create Clinks in seconds in our intuitive web platform.